News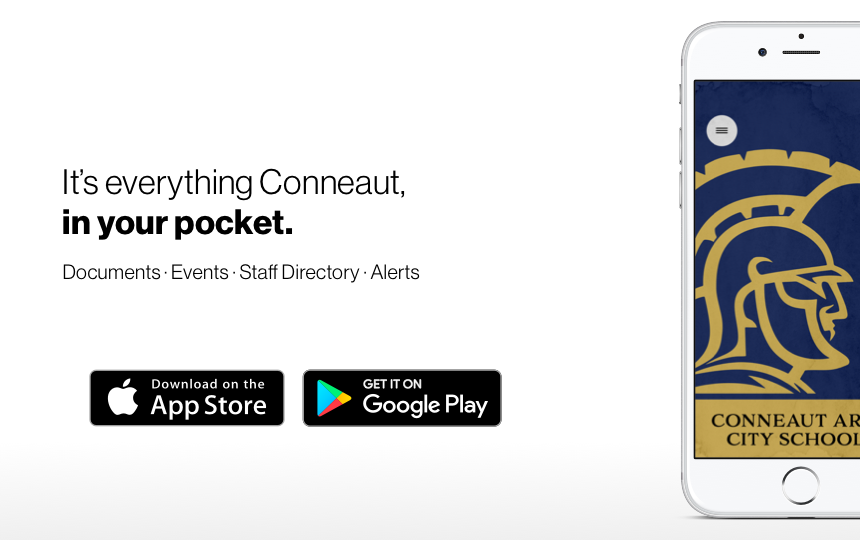 We're thrilled to announce Conneaut Area City School District's new app! It's everything Conneaut, in your pocket. With the new app, you can access documents, events,...
SEE ALL NEWS
LIVE FEED
Brian Chase
about 9 hours ago
Stephanie Anservitz
7 days ago
Please see below for fall sports/band picture times for Monday, August 10. 📸
Stephanie Anservitz
14 days ago
Attention girls grades 9-12 interested in playing Golf:
Please contact Coach Pitcher at apitcher@cacsk12.org.
Open practice at Kister's Driving Range (behind WalMart)- Friday, 7/31 at 6:30 pm and Saturday 8/1 at 8:00 am.
Stephanie Anservitz
25 days ago
Please see below for a message from A-Tech regarding their Information Day for the 2020-21 school year.
In order to maintain social distancing, we are expanding Information Day to two days.
August 2nd will be for new students, including CTE students who attended A-Tech last year as sophomores.
August 9th is for all other students who are returning to A-Tech for a second or third year.
Here are the scheduled times for each program:

August 2nd
New students and students entering a junior year program
1:00 – Carpentry and Culinary Arts
1:30 – Architecture & Engineering Design and Electricity
2:00 – Auto Technology and Construction Technologies and Welding
2:30 – Cosmetology and Early Childhood Education
3:00 – Power Sports & Outdoor Equipment and Public Safety Academy
3:30 – Auto Collision and Computer Systems & Networking and Horticulture and Precision Machining
4:00 – Health Care Academy and Visual Design & Imaging
4:30 – Career Technical Exploration and Small Animal Care
5:00 – Career Technical Exploration and Software & Application Design
August 9th
Returning Students
1:00 – Architecture & Engineering Design and Culinary Arts and Horticulture and Precision Machining
1:30 – Auto Collision and Early Childhood Education and Public Safety Academy and Small Animal Care
2:00 – Auto Technology and Electricity and Health Care Academy and Construction Technologies
2:30 – Carpentry and Power Sports & Outdoor Equipment and Software & Application Design and Visual Design & Imaging
3:00 – Computer Systems and Networking and Cosmetology and Welding
SEE ALL POSTS