3rd nine weeks report cards will be passed out in homeroom tomorrow. As always you are able to monitor your child's grades through the Parent Assist grade program. If you need more information on this please contact Mr. Kennedy (
jkennedy@cacsk12.org
)
CMS football weightlifting and conditioning will be held after school until 3:30 on Monday's and Wednesday's. Please come dressed to workout and condition. Any questions contact Coach Edwards.
The phone system is down at Conneaut Middle School. You may call the school at 440-593-7245 and leave a message. We are able to retrieve messages and will communicate back to you. You may also email Mr. Kennedy at
jkennedy@cacsk12.org
. We do not have a time frame for this to be repaired. Thank you for your understanding
These are the days and themes for the spirit week next week: Monday March 14th- Crazy Hat Day Tuesday March 15th- Rainbow Day Wednesday March 16th- Wacky Wednesday Thursday March 17th- Green and Gold Day Friday March 18th- Spartan Spirit Day
Dear CMS Families, The Conneaut Arts Center is showcasing student artwork from our area! Many CMS students have pieces in the show. The show will be open for viewing during the Art Center's business hours, starting Thursday, March 10th and running through March 25th. There is a reception on Monday, March 14th from 5:30-7:30pm to acknowledge special recognition awards. The Conneaut Arts Center is located at 1025 Buffalo St.
Spring picture day information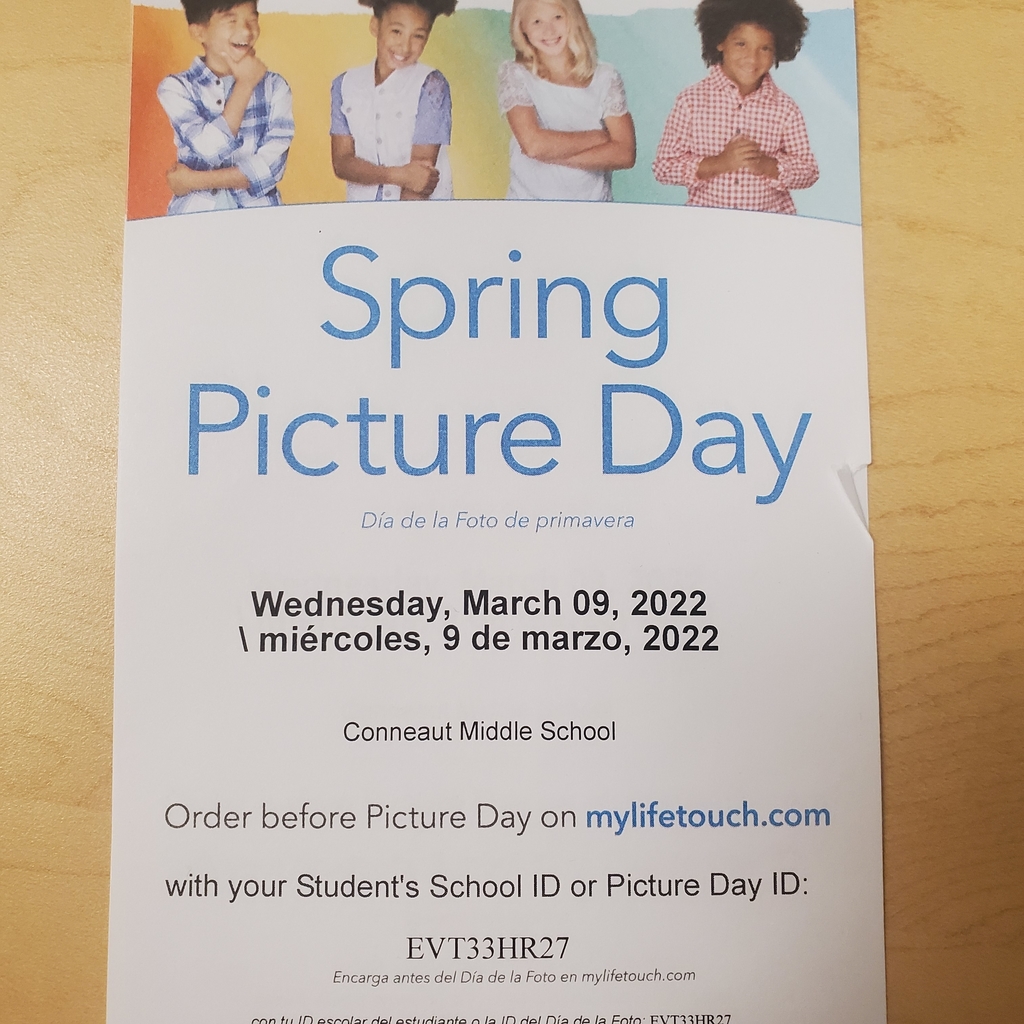 Information Night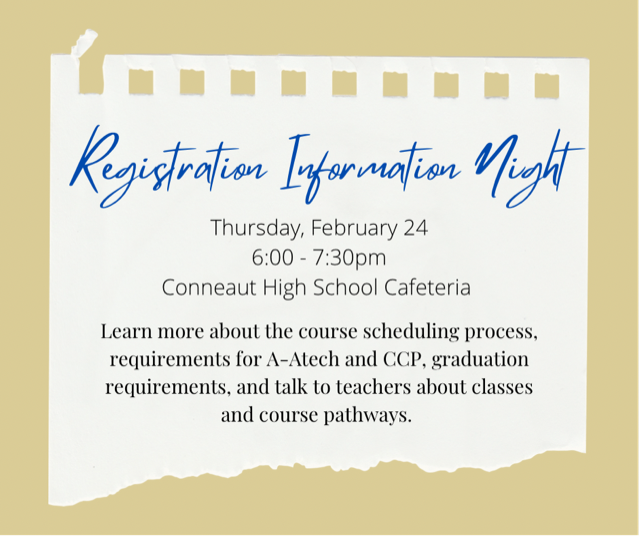 Conneaut High School will be hosting 8th Grade Transition to High School meetings on Thursday, March 3 from 4:00-7:00pm. Current 8th grade students and their families may sign up for 30-minute appointment times where they will have the opportunity to meet with a Conneaut High School teacher and learn about everything CHS has to offer. Topics discussed will include: course scheduling, planning for your future, activities and athletics available at CHS, and a day in the life of a CHS student. This is a great opportunity to learn more about what to expect in high school, and to make connections with a teacher who will then be a familiar face in the fall of 2022. If you are interested in attending, please sign up using the following link:
https://forms.gle/NJEubVHGvw7XceUk8
We look forward to meeting you!
A registration information night will be held on Thursday, February 24 from 6:00-7:30pm in the Conneaut High School cafeteria. This event will be for all current 8th-11th grade students, and will provide important information on the course scheduling process for the 2022-23 school year. CHS guidance counselor, Mr. Applebee, will share information on course options, the registration process, and planning for things like A-Tech admission and CCP. In addition, high school staff will be on hand to answer questions and share information on core and elective courses that are available to students. Please plan to attend this important and informative event
This is a message from the yearbook staff to let you know yearbooks are on sale now for only $20! It will be fun to be able to look back at yourselves and friends in the future! You'll be able to show your kids what your middle school was all about! Don't miss out. You can bring your money to Ms. Weagraff (rm 300) or the office. We will also have them for sale during conferences. Reserve yours today! Sincerely, The Yearbook Staff
February 9, 2022. Due to short staff, bus 18 will be running 30-40  minutes later today for middle school. Sorry for any inconvenience. Bus 19 will be picking them today.
ATTENTION PARENTS: Please disregard any contact made by Apptegy (our attendance calling system) in regards to absences today - Monday, January 24, 2022. For some reason, they received information concerning absences and calls were made to some homes even though students were not scheduled today. We apologize for the inconvenience. We will look into the reason it occurred and correct the situation for any future non-student days. Thank you!
As you are now aware Conneaut Area City Schools will be utilizing Remote learning for the safety of our students, families and staff January 7th through January 14th. Live instruction will take place for students January 10th - January 14th. As of today students will return to school on January 18th. Thank you for your understanding. These are difficult times for all of our students and your patience is appreciated. Please read below: Student Expectations for Remote Learning: 1. Attend and participate in all Google meets daily 2. If able find a quiet place to join class 3. Student is expected to remain in class for the entire class period or when released by teacher 4. Must show face when requested by staff member for attendance purposes or when answering questions 5. Complete assignments by due dates/ times as they count on your grade 6. Attendance is taken each class period 7. If extra support or tutoring is needed, ask for help! REMOTE LEARNING SCHEDULE for CMS Students: Period 1: 8- 8:30 Period 2: 8:35- 9:05 Period 3: 9:10- 9:40 Period 4: 9:45- 10:15 Period 5: 10:20- 10:50 Period 6: 10:55- 11:25 Period 7: 11:30- 12 Period 8: 12:05- 12:35
CMS Families and Students, REMOTE LEARNING SCHEDULE for CMS Students Period 1: 8- 8:30 Period 2: 8:35- 9:05 Period 3: 9:10- 9:40 Period 4: 9:45- 10:15 Period 5: 10:20- 10:50 Period 6: 10:55- 11:25 Period 7: 11:30- 12 Period 8: 12:05- 12:35 Please follow above period schedule for all remote learning days starting November 22nd. All teachers will meet in the GOOGLE classroom for instruction. Students please be sure to report to all classes at the appropriate time. Attendance will be taken during every instructional period.
Red Ribbon Week Spirit Days. Help us promote a drug free and healthy lifestyle. CMS students and staff choose to be Kind, Safe, Responsible and Problem Solvers.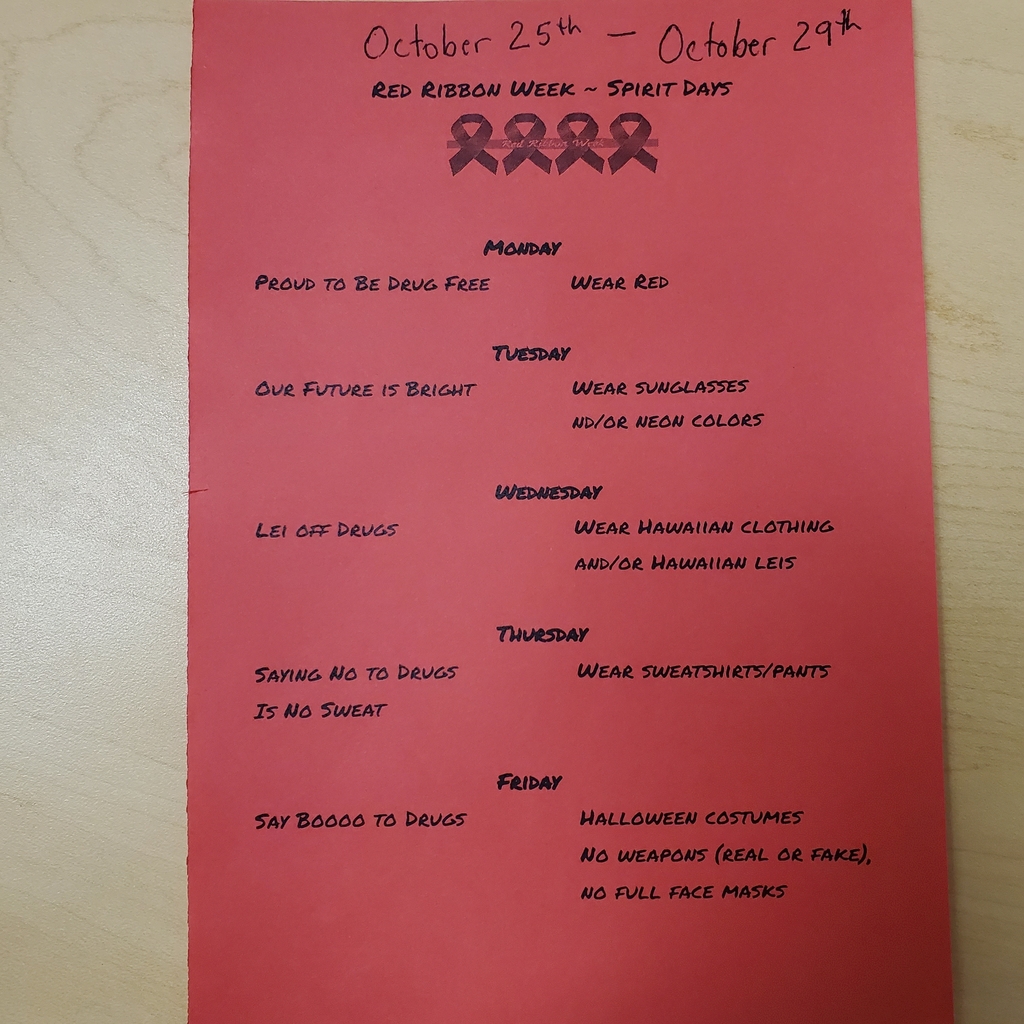 Remote learning expectations: Students were given a copy of the bell schedule. They were instructed to follow the schedule of their classes. They should log into their Google classrooms during their scheduled times. Attendance will be taken in each class. First period begins at 7:30.