The Conneaut Public Library is in need of high school student volunteers for trunk or treat on Saturday, Oct 16th from 10:30am-12:30pm. Please see flyer for details.

Attention senior families: There will be a FAFSA workshop on Wednesday, October 13 from 6-8pm in room 3112 at CHS. Lisa Jackson from KSU-Ashtabula will provide valuable information on how to complete the Free Application for Federal Student Aid. This is an important first step in applying for college admission. Special thanks to ACCESS Ashtabula County, and our CHS ACCESS advisor, Mrs. Janet Gerdes for coordinating this event. October is College Application Month! See the accompanying image for a list of colleges that have NO application fees now through November 15. It's a great time to apply!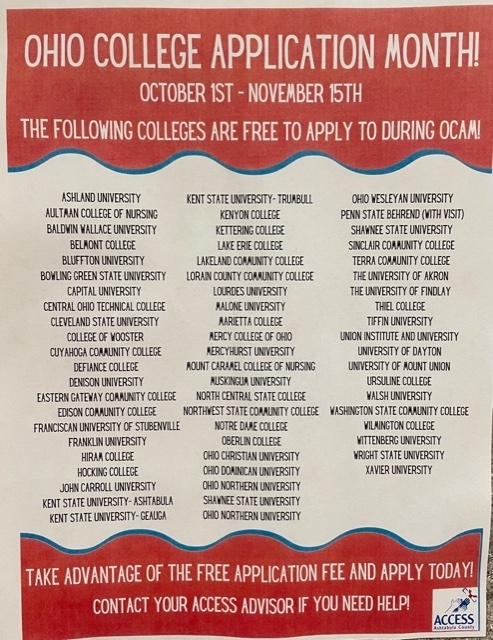 The homecoming dance will be held this Saturday, September 25 from 7-10pm in the CHS cafeteria. Masks must be worn by all in attendance. The last day to purchase tickets is tomorrow, Friday, September 24. Tickets are $10 each and are sold at lunch. A-Tech and Conneaut online students may purchase their tickets tomorrow from 11:20am - 12:50pm. No tickets will be sold at the door.
Attention Spartans! Safety Town is in need of student volunteers (grades 7-12) next week, Monday-Saturday, June 21-26, from 8:45 am to 11:45 am. This is an opportunity to earn 16.5 community service hours! If you are interested in helping, please call Patrolman Schor at the Conneaut Police Department: 440-593-7440.

There will be a volleyball team meeting and open gym on Monday, June 21 from 9-11am in the gym at CHS. If you wish to play volleyball this fall and are able to attend, we hope to see you. If you are unable to attend, please email Mr. Taylor at
jtaylor@cacsk12.org
and he will have Coach Ritari contact you.

Reminder: Chromebooks, charging cords, and mobile hotspots can be returned to the high school office daily between 7:00am - 3:00pm. Students will be charged for any technology equipment not returned. Replacement costs are $275 for Chromebooks and $30 for charging cords. Students may also return any textbooks at this time, if they have not already done so.
Due to the current weather conditions and impending forecast, the CHS Commencement Ceremony will be postponed and held on the rain date, Sunday, May 30th at 4:00 pm. at the stadium. Gates open at 3:15 pm.

Attention Seniors: Due to the potential for heavy rain tomorrow, mandatory graduation practice will be held in the GYM at Conneaut High School at 10:00am. Any senior who plans to participate in the graduation ceremony on Saturday MUST attend this required practice on Friday, May 28. Please enter through the gym doors at the rear of the building. Please note: graduation will still be held at the STADIUM on Saturday. This change is for practice only. We are watching weather conditions closely, and IF it becomes necessary to adjust to the graduation rain date of Sunday, May 30, we will notify you accordingly. For now, we are hopeful that the weather will cooperate and we can hold graduation as planned on Saturday.
Join us Live tonight, May 26th, for the CHS Academic Awards! The livestream begins at 6:30 pm. Please use the link below:
https://youtu.be/_YvHuxOpTaE
Seniors - Last call for submissions for the graduation program. Please use the link below to fill out information for the graduation program. This link has also been sent to your student email accounts. Please complete the form by the end of the day today, Thursday, May 20th.
https://forms.gle/bqsY2gr6tcFzuDyz7
The Conneaut Choir Department is proud to present our Choir Department YouTube Playlist link for all of our Virtual Choir performances throughout the year. This playlist Includes our performance of God Bless America, in which you will find a tribute to many of our CACS family Veterans as well as Carol of the Bells, 12 Days of Christmas, the Star Spangled Banner, and the CHS Alma Mater with a tribute to our 2021 Seniors. We hope you enjoy and share this music with your family and friends! ~Mrs. Mullins and the Conneaut Spartan Choirs
https://www.youtube.com/playlist?list=PLGaOQYGZHf1fikwUjzmAh6FVQndw4b8Im

Reminder to CHS students: Our class period schedule will be reversed tomorrow, Wednesday, April 21, to accommodate end of course testing. The order of class periods will be as follows: 7, 6, 4, 3, 5, 2, 1. The bell schedule will stay the same, but the order of classes will be reversed. This will have the greatest impact on band and CCP students, so please plan accordingly.
Reminder for CHS SOAR students that have State End of Course Exams: Testing is on Monday, April 12 and Monday, April 19. Specific testing information has been emailed to students individually. Have a great weekend!
Attention all juniors - Reminder that the School Day SAT is Tuesday, April 13. Please report to the CHS Cafeteria no later than 7:30 AM. Dismissal from the test is approximately 12:00 pm. Students attending in-person can be dismissed from school with a parent note. Lunches will be available immediately following the test.
Attention all graduating seniors - The Technology Department will be looking for reliable summer help. If interested, please contact Mr. Chase in the Technology Office.
Summer Right Track is looking for student volunteers on Tuesdays, Wednesdays, and Thursdays - 12:30 - 3:00 pm for 6 weeks (June 15-July 22). Contact Mrs. Burnett for information.
CCP - Students who are considering doing College Credit Plus for the 2021-2022 school year, should have an intent form turned into the office at this time. You must also apply at the college you plan on attending and fill out the permission form. Questions - Contact Mr. Applebee.
Students - If you are interested in joining the 2021-2022 Show Choir there will be a meeting afterschool on Wednesday, April 14 or Friday, April 16 (only need to attend one) at 2:25 pm. It will be held in the CHS Band Room. Contact Mrs. Mullins ASAP if you can't attend.