Reminder to CHS students: Our class period schedule will be reversed tomorrow, Wednesday, April 21, to accommodate end of course testing. The order of class periods will be as follows: 7, 6, 4, 3, 5, 2, 1. The bell schedule will stay the same, but the order of classes will be reversed. This will have the greatest impact on band and CCP students, so please plan accordingly.
Reminder for CHS SOAR students that have State End of Course Exams: Testing is on Monday, April 12 and Monday, April 19. Specific testing information has been emailed to students individually. Have a great weekend!
Attention all juniors - Reminder that the School Day SAT is Tuesday, April 13. Please report to the CHS Cafeteria no later than 7:30 AM. Dismissal from the test is approximately 12:00 pm. Students attending in-person can be dismissed from school with a parent note. Lunches will be available immediately following the test.
Attention all graduating seniors - The Technology Department will be looking for reliable summer help. If interested, please contact Mr. Chase in the Technology Office.
Summer Right Track is looking for student volunteers on Tuesdays, Wednesdays, and Thursdays - 12:30 - 3:00 pm for 6 weeks (June 15-July 22). Contact Mrs. Burnett for information.
CCP - Students who are considering doing College Credit Plus for the 2021-2022 school year, should have an intent form turned into the office at this time. You must also apply at the college you plan on attending and fill out the permission form. Questions - Contact Mr. Applebee.
Students - If you are interested in joining the 2021-2022 Show Choir there will be a meeting afterschool on Wednesday, April 14 or Friday, April 16 (only need to attend one) at 2:25 pm. It will be held in the CHS Band Room. Contact Mrs. Mullins ASAP if you can't attend.

Attention juniors and seniors: Prom tickets are now on sale before and after school and during lunch. Mrs. Tallbacka will be selling tickets in her room: 3166. The cost is $50 and includes dinner, dancing, photo booth, and swag bag. Students will sign up for tables at the time of ticket purchase, so you should plan who you want to sit at your table. Students may have up to 6 people per table. See Mrs. Tallbacka with any questions.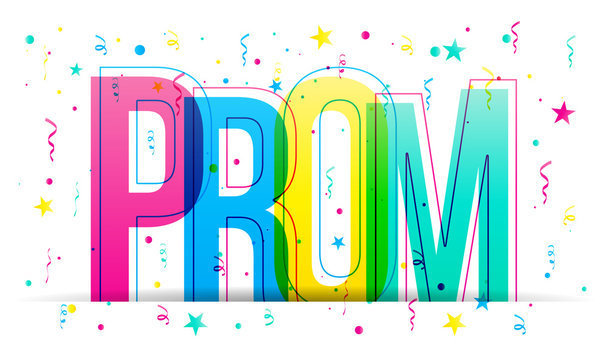 Attention, anyone interested in trying out for the 2021-2022 football and basketball cheer squads: Tryout clinics will take place April 13, 14, and 15, from 2:45-4:00pm at Lakeshore Primary Gym. Tryouts will be by appointment on Friday, April 16th starting at 3pm. In order to attend and participate in the tryout clinics, you must fill out and turn in a tryout packet on the first day. Packets are available in the front office or from Mrs. Tallbacka. If you have any questions, see Mrs. Tallbacka in room 3166.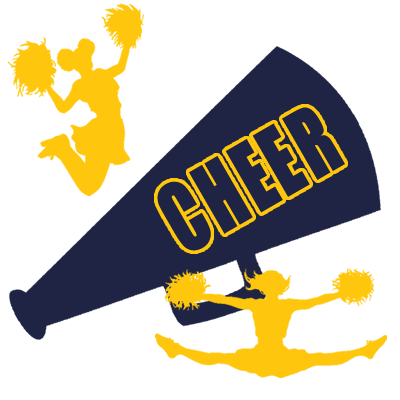 SENIORS: Please see below for important information on submitting your senior photo for inclusion in the yearbook. Deadline is Monday, March 15!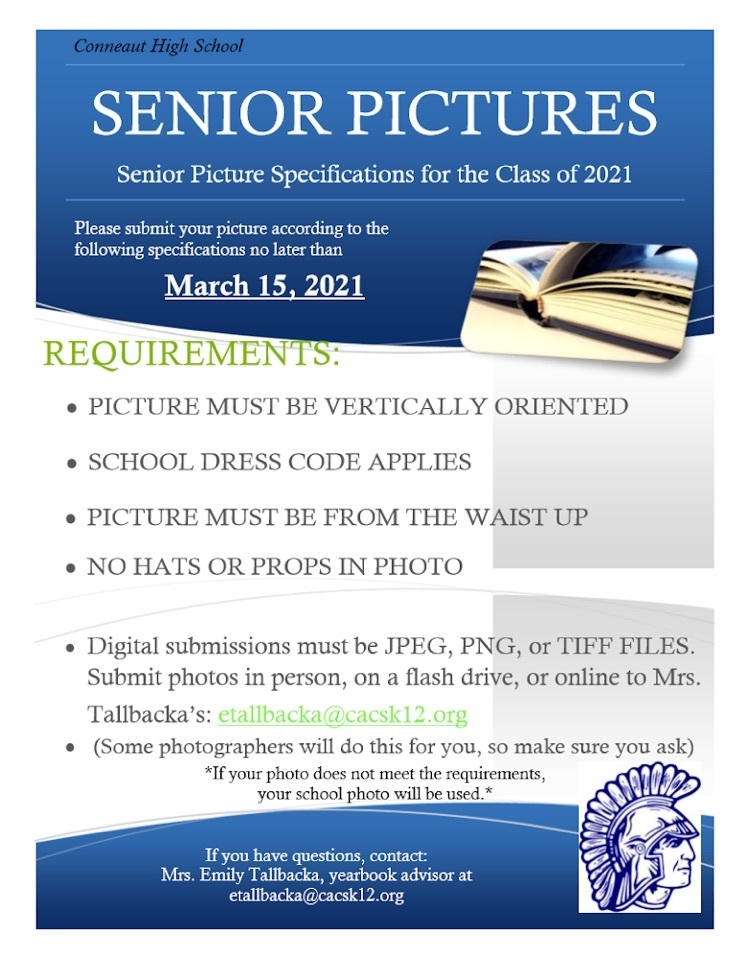 Conneaut Local Youth Organization has volunteer opportunities available for high school students. If you are seeking volunteer hours for graduation, or you just want to lend a hand to a great cause, please contact Tammy Church at (440) 813-9777.

Reminder to all students currently in grades 9-11: course selection sheets for the 2021-22 school year are due Friday, March 5. Students may submit requests electronically using the Google Form posted in their English Google Classroom, or they may turn in a paper copy to Mr. Applebee in the guidance office.

Welcome to second semester! Please see below for some guidelines to help you get started with the new grading period. **If you are a returning hybrid student: Your first period teacher will have paper copies of student schedules. If you have a semester class first period, please see Dr. Neal or Mr. Applebee at the entrance to the main office on Tuesday/Thursday morning. **If you are leaving SOAR and returning to hybrid learning: Please see Dr. Neal or Mr. Applebee at the entrance to the main office on Tuesday/Thursday morning for your schedule. **If you are new to SOAR this semester: Please check your student Gmail account for an email from Lincoln Learning that provides the website link, username, and password. All student schedules are also available to view in Progress Book by logging in with your student or parent access account. Click on "Schedule" in the menu tab. If you need assistance with logging in to Progress Book, please see Mrs. Anservitz or email her at
sanservitz@cacsk12.org
.

Attention CHS Families: If you would like to make a change to your student's learning plan for second semester - either from SOAR to hybrid or from hybrid to SOAR - please notify the school by calling 440-593-7215 by Wednesday, January 20. You may also email Mrs. Anservitz at:
sanservitz@cacsk12.org
. Please note, enrolling in SOAR will require a commitment for the full semester. Unless we are notified otherwise, all current SOAR students will continue on SOAR for the second semester.

Attention high school SOAR families: We are beginning to make plans for next semester. Students have received a Google Form to select elective courses for second semester. Please submit this form by Thursday, January 7. If you do NOT wish for your child to continue on the SOAR program for second semester, please call Mrs. Anservitz at 593-7215 or email her at
sanservitz@cacsk12.org
.

Congratulations to: 🏃🏻‍♂️Junior Alex Kennedy for being named as a FIRST TEAM District 10, Region 5 Cross Country ALL-STAR! 🏃🏻‍♀️Freshman Lyndsey Fogl for being named as a SECOND TEAM District 10, Region 5 Cross Country ALL-STAR!

Winter sports are coming soon! 🤼 Thursday, October 22 - 3:00pm There will be a meeting for anyone interested in participating in wrestling this year. The meeting will be held in the CHS cafeteria. If you cannot attend, please let Coach Distelrath know. 🏊🏼‍♂️ Thursday, October 22 - 7:00pm There will be a meeting for anyone interested in swimming. It will be held in the study hall room at CHS. Parents do not have to attend, as all information will be sent home with students that night. If you are attending either meeting, please wear a mask and practice social distancing inside the building.
Attention Seniors: Seniors who have signed up to take the SAT on Wednesday, October 14th, will report to the CHS cafeteria at 7:30 am for room assignments. The SAT will be from 7:30 am to approximately 12:30 pm. This includes pre-registration and breaks. Breakfast prior to the test and lunch after the test will be provided. Please bring a No. 2 pencil. Get a good night's rest and we will see you in the morning!

Today is the day! The FAFSA (Free Application for Federal Student Aid) is open!! Fill it out ASAP to get as much financial aid as possible. In each of Ashtabula County's public schools there is an ACCESS Advisor trained and ready to help you with you FAFSA (and many other college and career related tasks). See Mrs. Gerdes at CHS or email her at
jgerdes@cacsk12.org
. We are excited to help you on your journey!!