Thank You to the Chevy Network and Montrose Chevrolet for the great sponsorship this year! They are helping in many ways. Thanks for being such a great school and community partner to the SPARTANS! #ChevySpiritDW
Hello CHS! Homecoming is coming soon. Don't miss this wonderful opportunity. Beginning tomorrow, we will have a "Homecoming Boutique" open for our CHS ladies to choose a homecoming outfit FREE of charge. Thank you Suit for School for providing several beautiful dresses, shoes and accessories.
CHS Picture Day
Did you know by 9th grade, attendance is a better predictor of graduation rates than 8th grade test scores? September is National Attendance Awareness Month. Let's work together to make the most of the school year by helping students show up every day!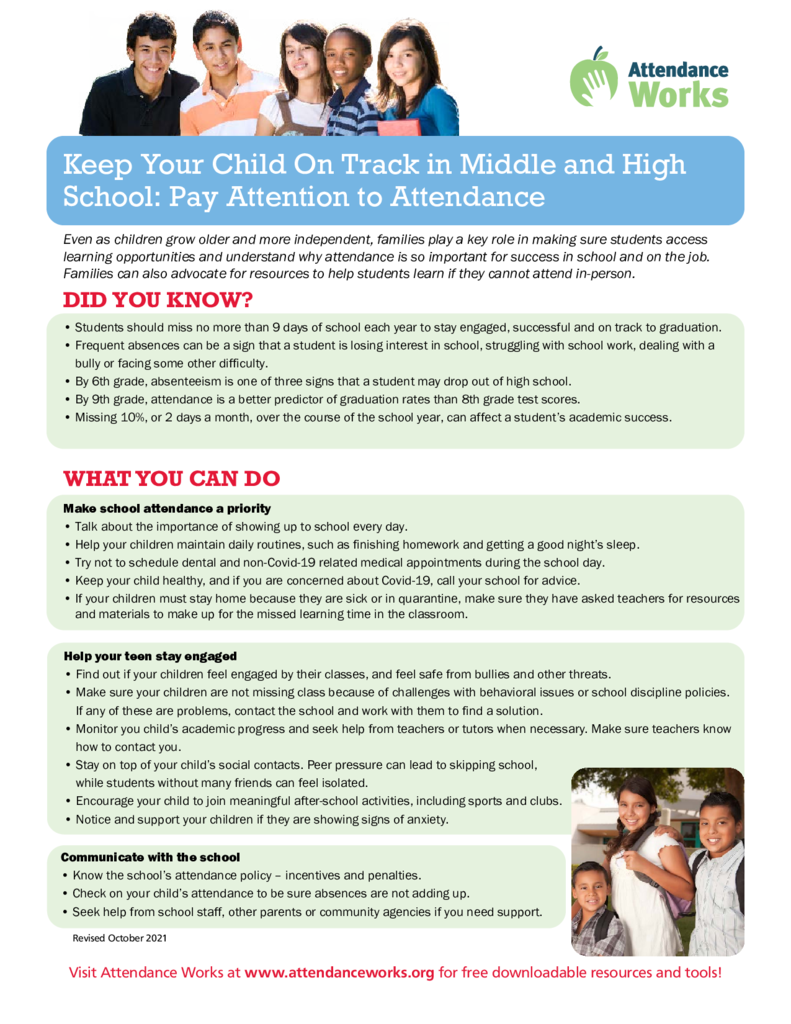 Thank you, Spartans, for a great first day! We wanted to let our families know that buses are running behind today. The last bus just departed the high school at 2:45, so plan for your students to arrive home a little later than expected.

Hello, Spartans! Just a reminder that open house will be held tomorrow, Thursday, September 1 at CHS. Please plan to stop in between 10am-12pm or 4-7pm to pick up your schedule and Chromebook, and be sure to visit the tables we have set up in the cafeteria. We'll have samples of school breakfast and lunch, representatives from yO! and GEAR UP, and order forms for class t-shirts and athletic passes. Students who ordered a 2021-22 CHS yearbook may pick them up during the open house. Please see Mrs. Tallbacka. Also, we'd like to remind parents to please be on the lookout for an email from FinalForms. You'll need to click on the link in the email to set up your online account and complete the required student forms for this school year. This is a requirement for all families this year, as no paper forms will be sent home. You can also access FinalForms at: conneaut-oh.finalforms.com

Reminder: freshman orientation will be held tomorrow, Thursday, August 25 at 11:00am (last names A-L) and 1:00pm (last names M-Z). This is open to all incoming 9th grade students, as well as any student who will be new to CHS this year. We can't wait to see you!
Welcome Back Information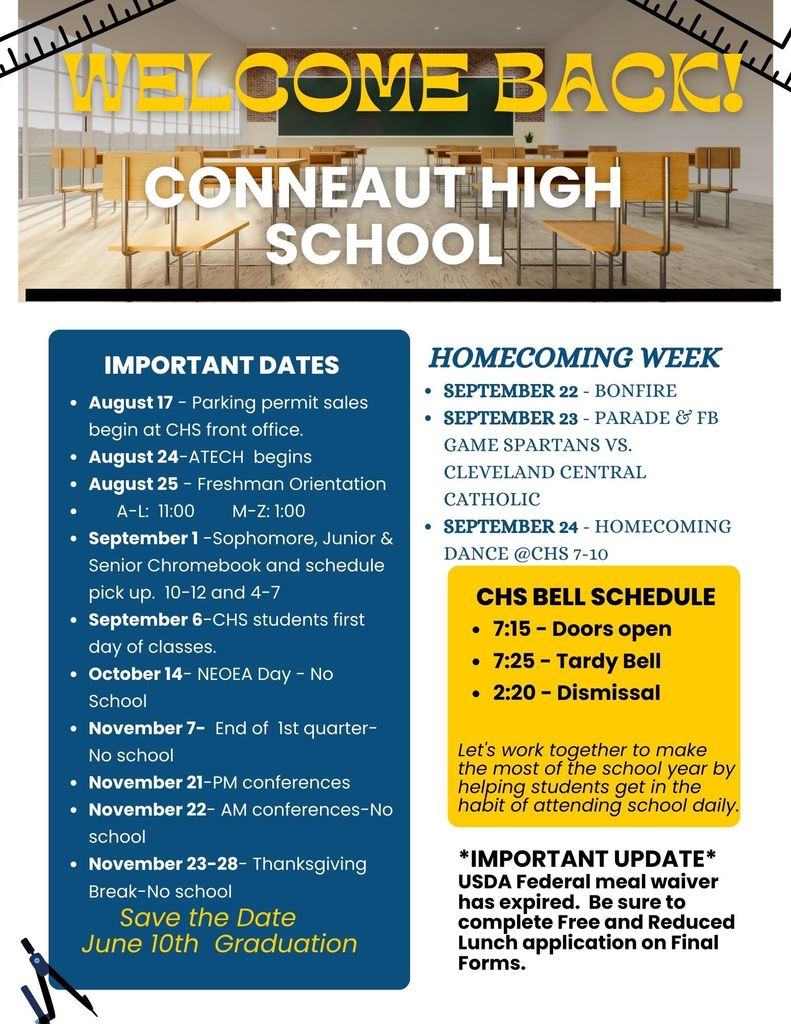 Join us on Thursday, September 1 for open house! This will help you get the 2022-23 school year started on the right foot with everything you need for the first day. We can't wait to see you!

Registration is now underway for summer school! This year's program will include online classes offered through ACE Digital Academy. In-person tutoring sessions will be available. The deadline to register is Friday, June 17, 2022. See the flyer below for more information, and register online at
https://forms.gle/dN1jddEPbRCzzH5PA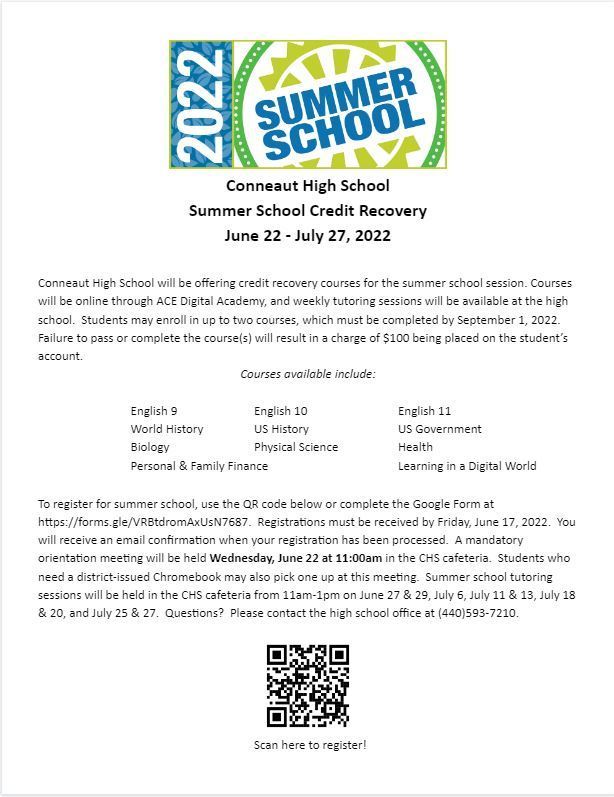 Please see below for important reminders about events for seniors this week. Students who owe Chromebooks, chargers, textbooks, or fees will not receive their diploma until their student account is settled. Please call the office at 440-593-7210 with questions. We can't wait to celebrate with our seniors!

It's that time of year! Please see below for our schedule of upcoming senior events. If you have any questions, please call the CHS office at 440-593-7210. Fri., May 20 - Senior Walkthrough at Lakeshore, Gateway, and CMS Tues., May 24 - Senior parade - 7:00pm Weds., May 25 - Seniors' last classroom day Thurs., May 26 & Fri., May 27 - Senior final exams Tues., May 31 - Spring Sports Awards - 6:30pm Weds., June 1 - Senior Academic Awards - 6:30pm (by invitation) Thurs., June 2 - Senior Class Trip to Cedar Point Fri., June 3 - Mandatory graduation practice at New Leaf - 10:00am Sat., June 4 - Graduation at New Leaf - 2:00pm

Please see below for information on upcoming dates for Advanced Placement exam administration. If you have questions, please see your AP teacher or Mr. Applebee in the guidance office.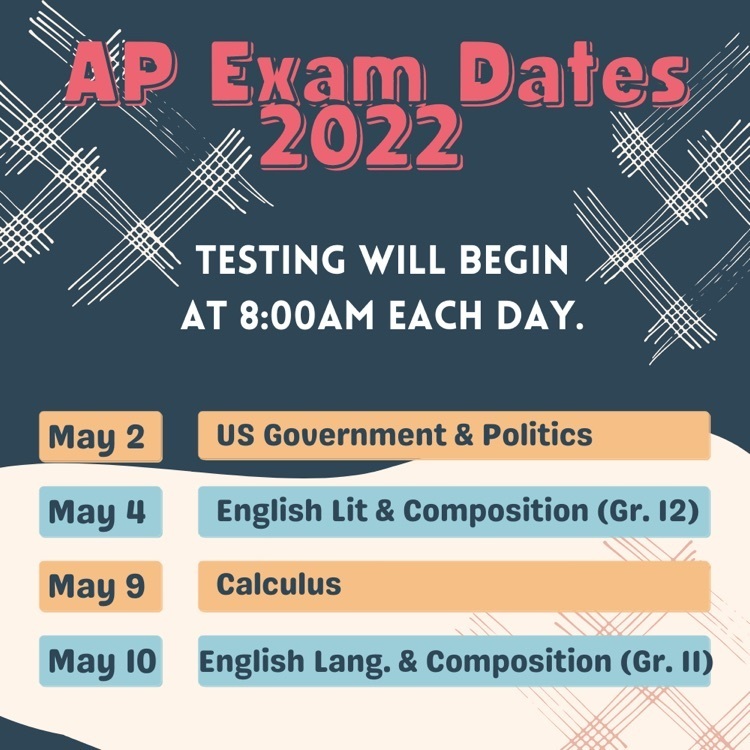 Reminder: The ELA II (10th grade English) end of course exam will be given tomorrow. All students scheduled to take this test should report to school at regular time. Please make sure your Chromebooks are fully charged, and consider bringing your charger to school to have as a backup. Students not testing should report to school by 9:15am. Transportation will only run at regular arrival and dismissal times.

Just a reminder about scheduled end-of-course testing for next week. We will have a delayed start each day for those students who are not testing. Students taking an end-of-course exam should report to school at the regular time (7:15am). All other students should report by 9:15am. Transportation will only be provided at regular arrival and dismissal times. Please note the updated schedule for testing in the image below.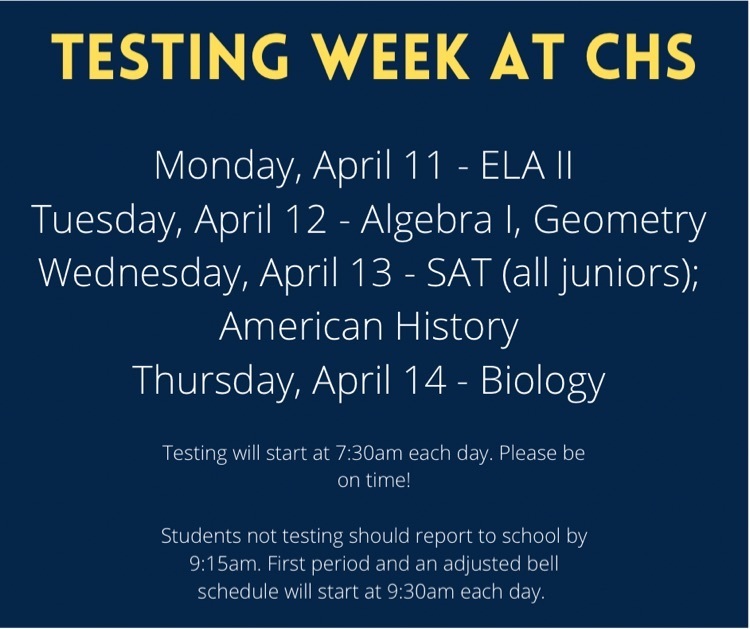 Conneaut High School Prom 2022 will be held Saturday, May 7 from 6:30-10:30pm at Andrus Party Center in Ashtabula. Tickets are $50/person and can be purchased at lunch starting Monday, April 4. A-Tech students may purchase tickets before or after school in the main office. Guests of CHS juniors or seniors are welcome, but a guest pass must be submitted no later than May 4. Guests must also have at least junior standing and may be no older than 20 years old. The prom walkthrough will be held Saturday, May 7 at 4:30pm in Garcia Gymnasium, prior to the dance. Families are welcome to attend.

Phone service to Conneaut High School has been restored.

Phone lines at Conneaut High School are currently down due to a line that was cut last evening. If you need to contact the school, please email
tbowman@cacsk12.org
or
jbartlett@cacsk12.org
. We will update when service has been restored.

Attention juniors: SAT Boot Camp will be held on Wednesday, March 23 for all CHS juniors. This full-day workshop will be presented by test prep company, Mastery Prep, and will be beneficial in preparing our juniors to take the school day SAT on April 13. This event is sponsored by Gear Up Conneaut, and is mandatory for all 11th grade students to attend (including those who attend A-Tech). It will be held at New Leaf Event Center, and lunch will be provided. Buses will depart CHS at 7:30am and students will return around 2:00pm. Permission slips were sent home with students last week and are due tomorrow, Tuesday, March 22. An additional copy can be found here:
https://docs.google.com/document/d/1YW_GbVCjEq_wTbwx3XqoGPL1APBh-gU_yh-5ToL40Ng/edit?usp=sharing