SAVE THE DATE: Monday, September 27th will be a district-wide Remote Learning Day. This will be an at home instruction day for students. Staff will be completing professional development trainings. Further information will follow regarding teaching and learning on that day.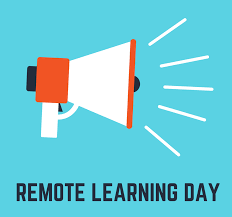 Make sure you head over the Outdoor Learning Center this Saturday from 10-2 and check out all the fun activities and food trucks!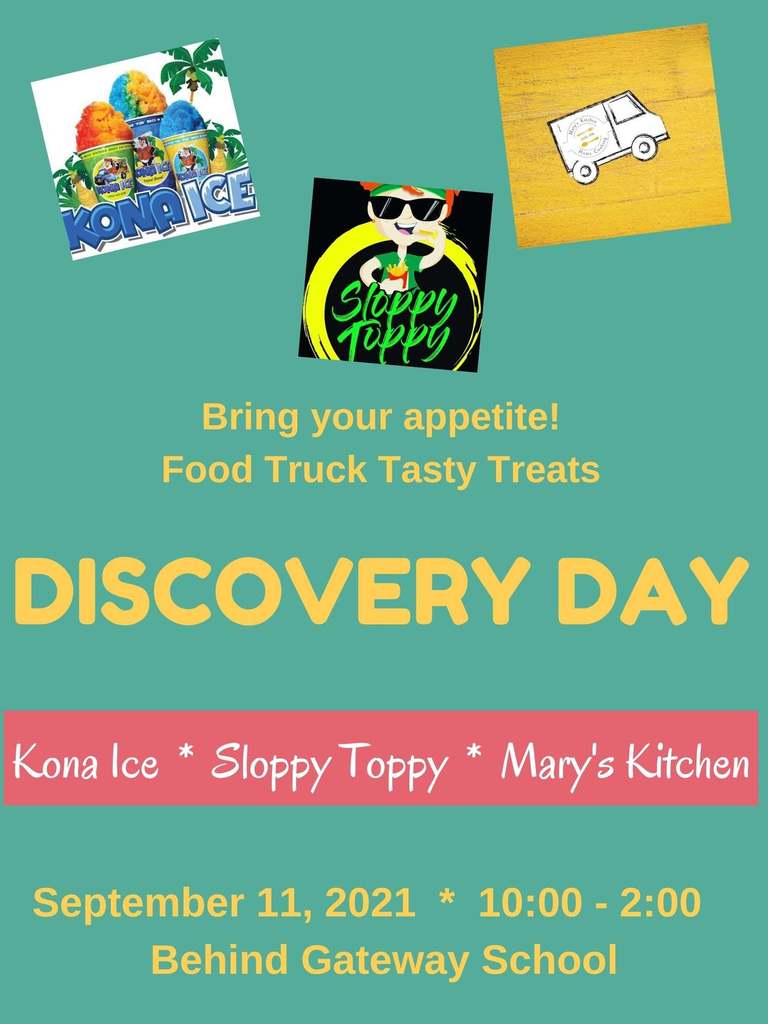 Thank you to our staff, students and families for a successful first week of school! We worked together to get some of the bugs and jitters worked out. We also made it through the first week COVID free! Just a reminder that there is no school on Monday. Also we are excited to have our youngest Spartans join us when Preschool begins on Tuesday. Please take time to enjoy the long weekend!

We hope everyone was able to visit your school this week and collect everything you needed! If not, bus stops, building times and other important information is posted on the front page of our website (
https://www.cacsk12.org/
). Just a reminder that school starts on Monday August 30th, with some kindergarten students starting Tuesday. Have a great last weekend of summer and GO SPARTANS!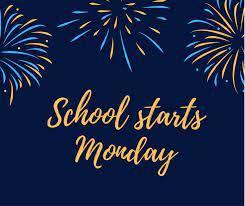 Backpack Distribution and Health Fair is Monday August 23rd from 10-1 at Right Track. In conjunction with CDC guidelines and Conneaut Health Department recommendations, masks must be worn upon entering the Conneaut Human Resources Center. Thebstaff and volunteers will also be wearing masks to ensure that our community stays safe!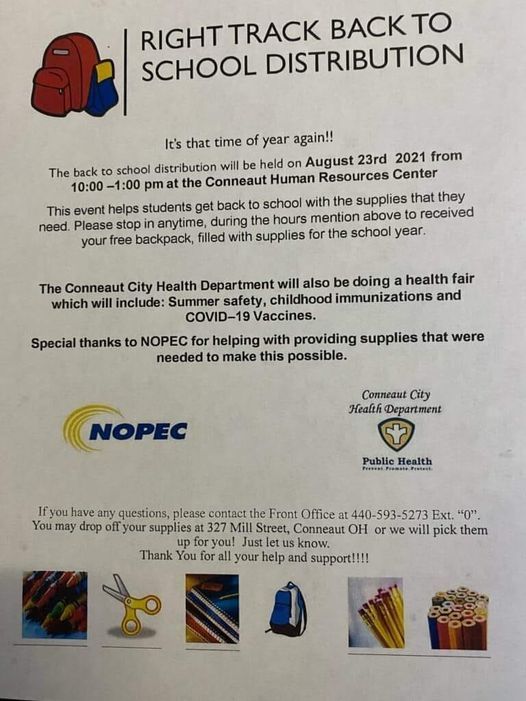 In order to re-open schools to 5-day in person learning on Monday, August 30th, the CACS Board adopted this plan to begin the year. Summary Return to School Plan for CACS beginning August 25, 2021: 1. Vaccinations are strongly recommended for staff and eligible students. Will continue to promote vaccinations in partnership with the Conneaut City Health Department. Next clinic August 23rd at the Conneaut Human Resource Center from 10-1. 2. Masks will be worn by anyone inside any district building regardless of vaccination status. 3. The CDC requires that masks will be worn by all adults and children on school transportation vehicles regardless of vaccination status. 4. CACS will strive to maximize distance between students, staff and others, with the goal of keeping the schools open for 5 day in-person learning. 5. Hand-washing, cleaning and disinfection will continue to be encouraged. 6. Students and staff will assess symptoms before coming to school. 7. CACS will continue to partner with the Conneaut Health Department for contract tracing and isolation/quarantine orders. 8. CACS will follow guidelines for quarantine after exposure in K-12 settings. 9. We will continue to provide an online option for families who wish to not have their students attend in-person. 10. Plan will be evaluated regularly and will make adjustments when necessary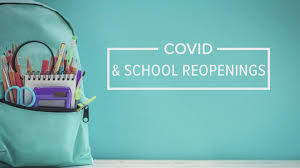 Here is an overview of the online program that will be offered by CACS through the Ashtabula County ESC this year: We have selected Edmentum's EdOption Academy which is a K-12 program that offers both live lessons (synchronous) and self-paced lessons (asynchronous) for students from Ohio Certified Teachers. Students enrolled in grades K-5 will receive live lessons Monday - Thursday in ELA, math, science, and social studies each week. These live lessons would range from 30-60 minutes each and combine with other asynchronous work that students complete on their own. Additionally, students in grades K-1 will also receive asynchronous instruction in health and physical education, while students in grades 2-5 will receive asynchronous instruction in art and physical education. Teachers will also have scheduled office hours to assist students with work as needed. Students enrolled in grades 6-12 will receive live lessons in ELA, math, science, and social studies two times per week. They can also be enrolled in up to three other courses depending on your school's specific course of study. They have 400 courses to choose from that should meet the needs of all school districts. Teachers will also have scheduled office hours to assist students with work as needed. Teachers for all students in grades K-12 will act as the teacher of record for the students enrolled in this program. They will also meet with students and their families two times per month to discuss progress and performance. CACS families were asked to register by July 30. We are re-opening the registration form until this Friday, August 20. Start date for classes is targeted for August 31. Click here to register:
https://docs.google.com/forms/d/126h-KYIF934OeJiZu2PykcO6JlCImb7we_-QkNWS21M/edit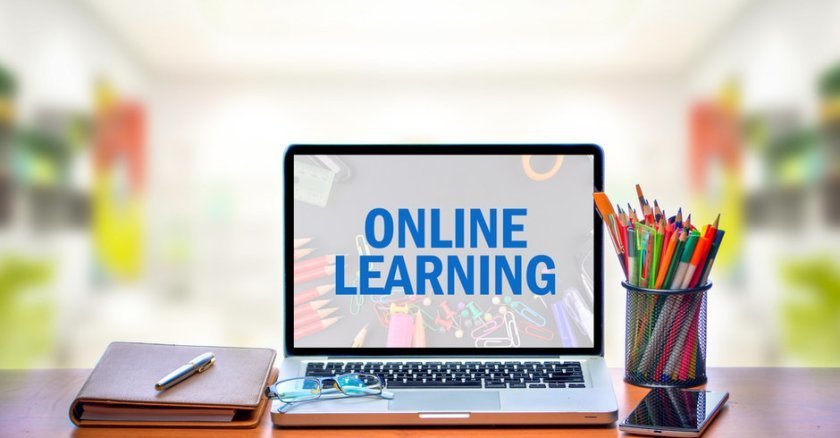 The Conneaut City Health Department will be offering two COVID vaccination clinics for any CACS student ages 12 and older as well as eligible household family members. The first clinic will be held on Monday, Aug 9th at CHS from 9am-1pm. The second clinic will be held on Wednesday Aug 11th at CMS from 12pm-2pm. These will be in conjunction with fall activity photos and be held in the gyms. Students should be accompanied by a parent/guardian or have a parent consent form completed.


Important Athletic Reminders for Parents and Students: With Monday (tomorrow) being the first day of fall practice for student-athletes we will conduct our mandatory Ohio High School Athletic Association Pre Season Parent Meeting. Fall student-athletes from the high school and a parent will meet in the CHS cafeteria on Tuesday, Aug. 3, at 6PM. Fall middle school student-athletes and parents will meet in the Conneaut Middle School cafeteria at 6PM on Wednesday, Aug. 4. Please arrive early and bring something to write with. Also...any high school girl wishing to play golf this fall should go to Village Green Golf Course tomorrow morning at 7AM. This is the first day of practice. And finally...the Conneaut Athletic Boosters are in need of new members. This organization does so many things in support of our student-athletes. Whether you would like to be an officer or someone who helps out once in awhile your effort will benefit our kids and will be much appreciated! If you are interested please email
jtaylor@cacsk12.org
and he will pass your name on the Boosters.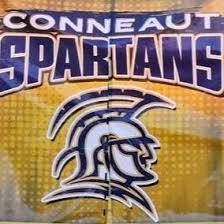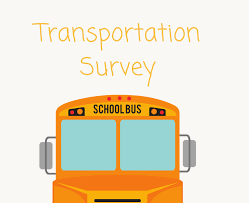 The updated OHSAA Physical Form for 2021/2022 has been uploaded to our site. Site Location: cacsk12.org>menu>documents>athletics Direct Link:
https://5il.co/w2m1

A little birdie told me that any girls in grades 9-12 who may be interested in joining the golf team are invited to an open golf session. This will be held on Wednesday, July 28th at 7 am at Village Green Golf Course (on Lake Road). FORE!
Thank you to everyone who has taken the Emergency Connectivity Fund Assessment! If you have not done so yet, please take a moment to submit one.
https://forms.gle/FX84jodof5y9RRbx9
Conneaut Area City Schools Emergency Connectivity Fund Assessment Please take the assessment:
https://forms.gle/Nb9x936kiSfdwte46
The Conneaut Area City Schools is assessing the need for applying for the Emergency Connectivity Fund in order to help fill a remote learning needs to staff and students. This fund has the ability to help our district lessen the finical burden in providing the needed services and devices to our staff and students. We are required to do a needs assessment prior to applying for the Emergency Connectivity Fund and need your help to move forward. Please take the survey below to help us assess the need for our district! Please take the assessment:
https://forms.gle/Nb9x936kiSfdwte46
More information about the Emergency Connectivity Fund can be found here:
https://www.fcc.gov/emergency-connectivity-fund

Conneaut Music Boosters Car Wash Saturday July 24th; 9am-1pm Marcy's Funeral Home 208 Liberty St., Conneaut, OH All donations will go towards the purchase of NEW UNIFORMS for the CHS Marching Band!

Job Fair tomorrow at the Ashtabula County ESC (former Thomas Jefferson Elementary School on West 13th near KSU Ashtabula Campus). This is for substitute teachers and paraprofessionals. You can sign up there and tell them you want to work in Conneaut. Or you can stop in the Conneaut Board Office any day between 8-3and sign up for any and all positions including those above plus bus drivers, custodial and food service. We are located in Conneaut Middle School 230 Gateway Ave Door B. Any questions call 440-593-7201. Join the Spartan Family!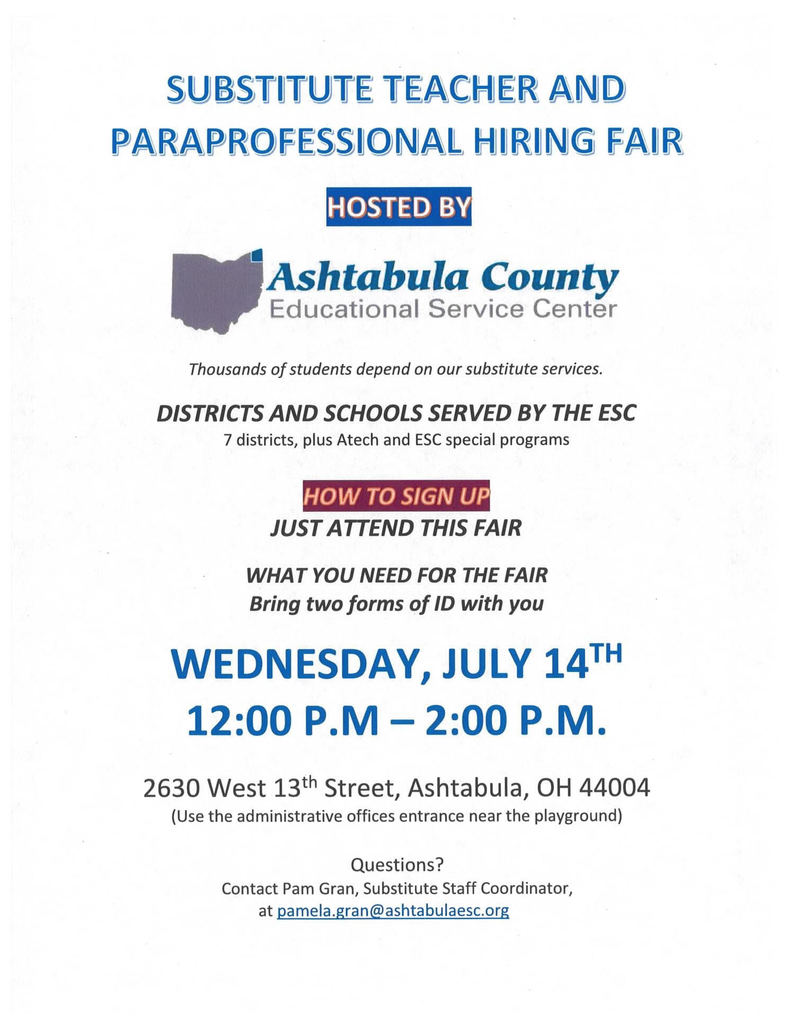 There will be a meeting this Thursday July 15th at 5 pm in the Conneaut High School gym for anyone interested in playing girls basketball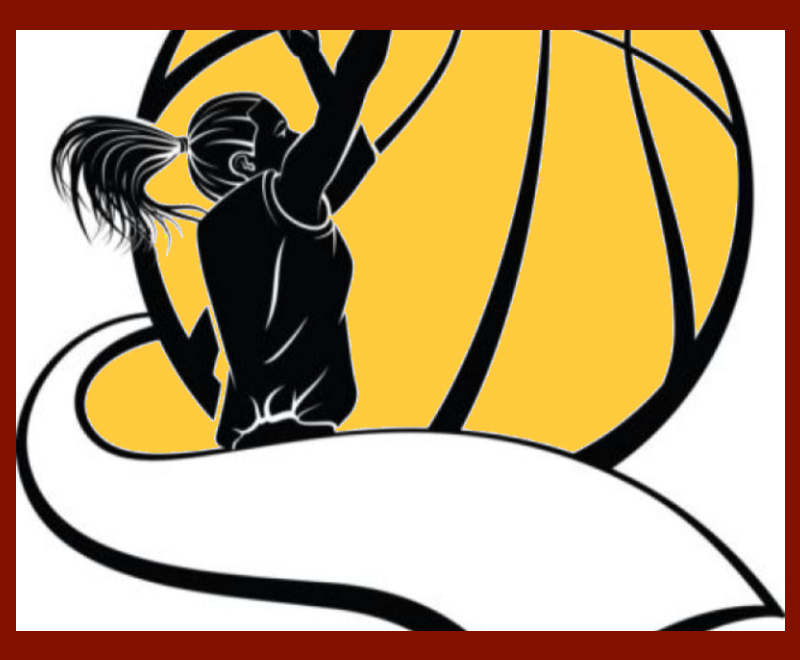 State Road Medical Facility is delighted to offer affordable sports physicals to our local student-athletes. For every $20 sports physical that is done at State Road Medical Facility, we will donate the entire $20 to the student-athletes school athletic department. The more physicals each school has done at State Road, the more money for their school athletic department.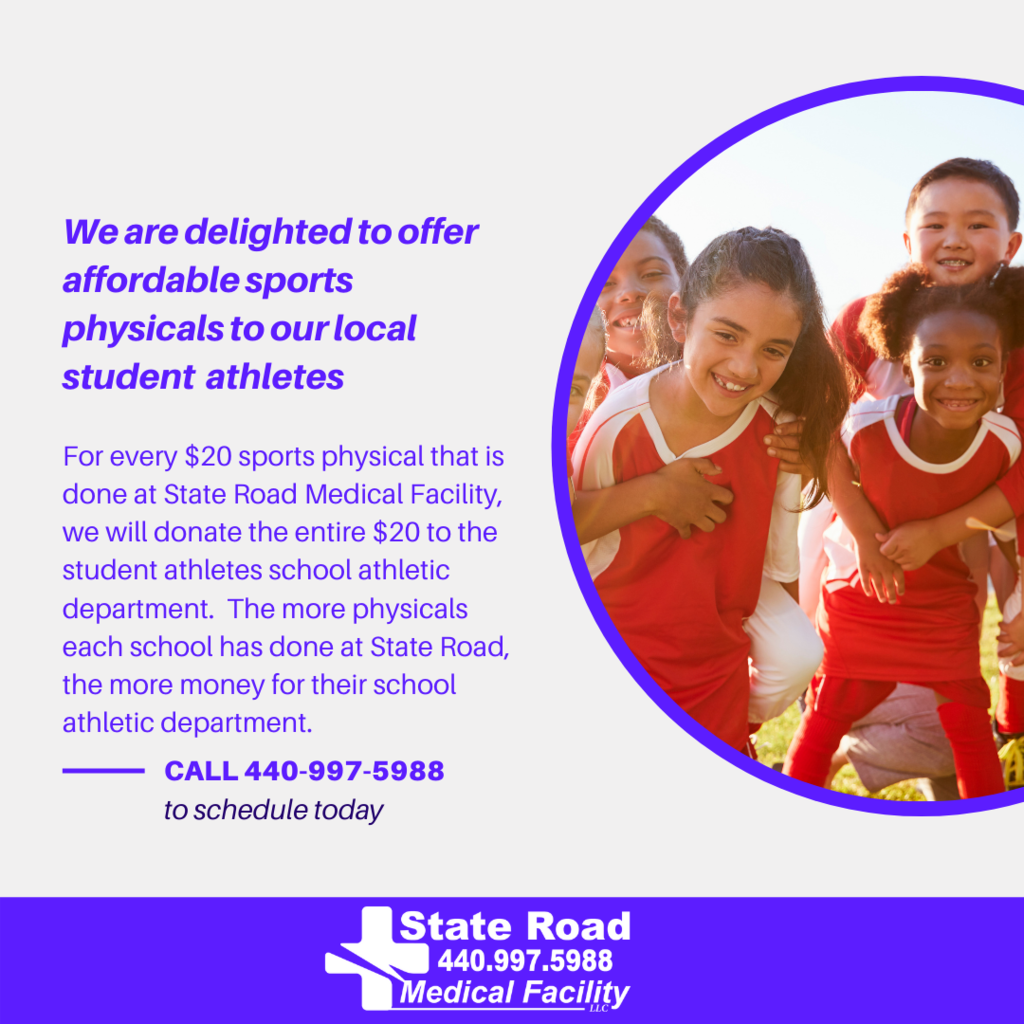 The Conneaut City, Ashtabula City and Ashtabula County Health Departments along with UH and ACMC hospitals, are hosting a drive-through COVID-19 vaccine clinic on Saturday, July 10th, from 9 AM-12:30 PM at the Ashtabula Towne Square. The Pfizer vaccine, approved for children ages 12-17, will be available. A parent/guardian must accompany anyone under age 18 to provide consent. Moderna and Johnson & Johnson will also be available that day for those over age 18. Second doses of Pfizer & Moderna will be coordinated through the health department.